Happy Halloween! ARanormal, our first game, is now open source!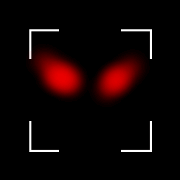 Happy Halloween!
Five years ago we released our first game: ARanormal, an augmented reality (AR) ghost hunting simulation for iPhone. It's no longer available on the App Store, but in the spirit of Halloween, and to demonstrate the commitment we want to make toward open source and software preservation, we've released ARanormal's source code to the public.
ARanormal simulates a haunting in your own home. Turn off the lights and launch the app, and use your phone's camera to record paranormal activity around you. When you spot a ghost, take a picture to increase your score. Your phone may also pick up signals of otherwordly communication; ask questions aloud to prompt a response! But be careful not to provoke them…
We've put the source code on GitHub here:
https://github.com/JesdoSoftware/ARanormal
ARanormal uses some third-party frameworks and assets we don't have permission to distribute with the source code; these are described in the README. It also requires an older version of Xcode to build, and I'm not sure how it'll run on modern iPhones. We consider it a legacy project and don't intend to maintain it, release any new versions, or offer support. But we're interested to hear if anyone gets it working!
Have a safe and fun Halloween!
---
Subscribe to our mailing list